Part II: Providence Public Library, Providence, Rhode Island
Occasional posts are dedicated to the topic, My favorite Venues to Photograph (and why). To be clear, our job as your professional photographer is to be able to work in virtually any lighting and environmental condition. Most of us would agree that the only part of the day we need "control" over our light and/or surroundings is during the posed and group photos of our client(s) your loved ones. In my experience, some venues are easier to photograph and/or allow more creativity and flexibility than others, thus allowing your photographer to go above and beyond with our camera to do our very best for you.
How do I define my favorite venues to photograph?
Practicality: Let's face it: we are in New England! We've had cold days in September, warm days in November and rainy days in July. Does the venue provide a seamless Plan B if the weather suddenly shifts (and it may)?
Position of the sun throughout the day: The light may be perfect at 4pm at a particular venue. But if we are taking the posed photos at 10am, are there different background options, or are they limited (ie, choosing between phone lines or the busy street as the backdrop)? If high noon is the only time to photograph, do we have shady options so that you do not roast in the sun on a hot July day?
Inclement Weather: some venues that are perfect on sunny days for photos may have limited options if inclement weather occurs. Are there areas which provide shelter that are spacious enough to work in and/or allow some dimension and creativity? Having just a little bit of flexibility can go a long way for your wedding and event photography.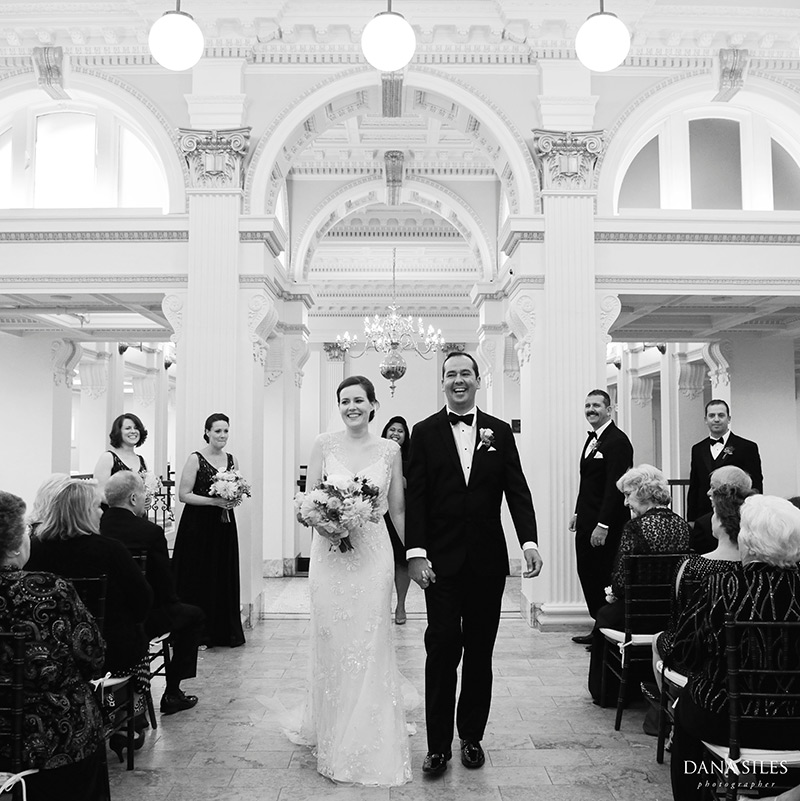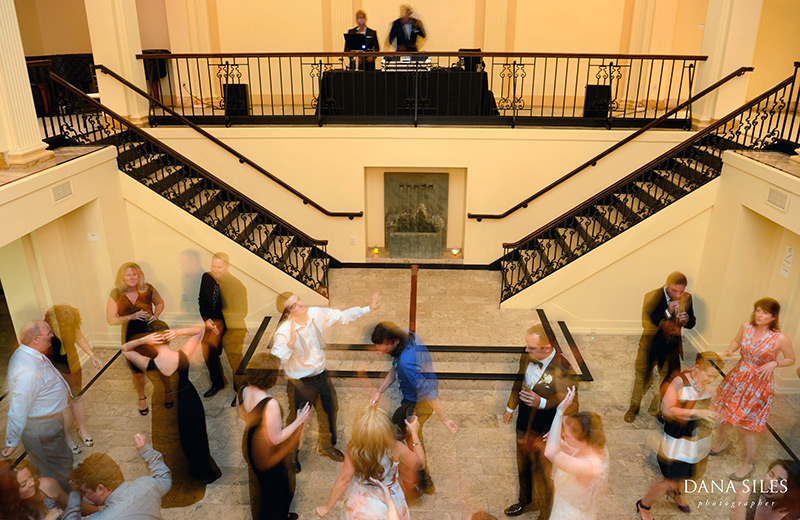 Providence Public Library is a historic landmark in Providence, Rhode Island. It is quite the opposite type of environment and vibe as Rosecliff, discussed in Part I, but beautiful and practical in its own right, especially for winter wedding photography.
For outdoor photos, the southeast facing terrace is ideal, especially early morning while the sun is facing the building and late day when the sun is completely behind it (or anytime on an overcast day). In addition, Waterplace Park is lovely and is only .6 mile away, so you can enjoy a 12 minute walk through the city or take a quick 5 minute drive to get there.
The interior of PPL is romantic, spacious and beautiful. Creatively, a photographer couldn't have a bad backdrop if we tried! One of the ideal areas to photograph groupings is upstairs, just outside the bridal suite. There is beautiful natural light and outlets for your photographer to plug into if necessary. It's out of the way from your guests, but not far from everything else: so you can easily disappear for just a few minutes at any point if needed. And for photos of the bride and groom together, utilizing the library itself with the books is a must, and will allow for some quiet time for you (literally - shhhh)!
Alexandra Kreher, Sales & Event Manager for Russell Morin Catering & Events adds, "The Providence Public Library is a gem in Downtown Providence. It presents the setting and feel of a Newport Mansion, while being tucked in the center of the city. The location not only offers plenty of nearby accommodations, restaurants and entertainment, but also includes its own timeless charm, which is the perfect backdrop for any event, especially weddings! The space is versatile and absolutely exquisite, offering an ideal and dynamic location for every aspect of a wedding – and most notably for photography."
Lastly, it's important to note that you should ask your planner to suggest timeframes that work for any venue based on the season, and in order to maximize the quality of light and how that reflects on the surroundings throughout the day.
Click here to view Julia & Jason's wedding day story. Click here for more Venues and Friends who I recommend in the wedding/events industry and beyond. Email me anytime for topic suggestions and feel free to comment, ask questions and share. Thanks for reading!

Peace, Love & Happy Planning,
Dana Siles